Connect with like-minded
Join our events, community network and mingle with like-minded people in tech and get your hands-on experience in workshops!
Stay informed about the latest community and tech events:
29th & 30th of Sep
For the fourth time in a row we are welcoming you to the #wetechtogether conference – the biggest conference for bringing diversity into tech in Switzerland this autumn.
The conference creates an empowering environment for everyone to discover and navigate the fields of STEM. It offers a diverse range of workshops, mentoring, talks and coverage for, with and about women in tech.
Ort: Technopark, Zurich
Upcoming Community & Tech Events
2nd June, 08:30 am - 12:00 pm (Online)
Im Kurs arbeiten wir praxisorientiert an Ihrem konkreten Anliegen. Bringen Sie den Entwurf einer Präsentation mit, bei der Sie das Gefühl haben, dass Sie nicht alles unterbringen, was wichtig ist.
9th June, 04:00 - 05:30 pm (Online)
Join a webinar to understand more about the impact of digital transformation in the pharmaceutical industry and how CSL is navigating through the digitalization journey in a way that complies with regulations.
20th June, 12:00 - 01:00 pm (Online)
An efficient communication will have a direct impact on employees' top performance and well-being. Considering failings and possible solutions will be part of this lunch & learn session.
22nd June, 09:30 - 16:30 pm (Zurich)
Sitzungen sind wichtige und entscheidende Momente der Zusammenarbeit. Die Zeit, in der sich Menschen begegnen und zusammen-arbeiten, ist kostbar. Gemeinsam lassen sich tragfähigere und cleverere Lösungen finden.
Recurrent Community & Tech Events
Hello 50:50 world
Every Friday, 8:00 - 9:00 am (Once a month)
Every Friday, 8:00 - 9:00 am (Once a month, Zurich)
The conversation on diversity in tech at our hello 50:50 world meetups. 5-min lightning talk about a specific topic – open discussion afterward.
The female tech communities we are working with are active in different tech areas. From AI to 3D Printing, coding or even for female founders. Collaborating with these female tech communities is at the core of our work. We allow talented women in tech to get to know these communities. Above all, we understand that building networks will support each member to grow and become part of the tech world.
Find out more about these communities and sign up for our newsletter to know about their events!
Past Community & Tech Events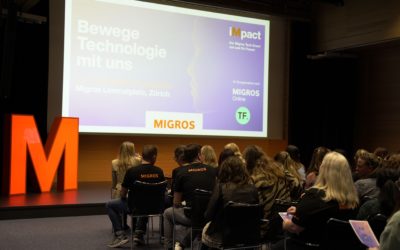 Als Co-Organisatorin des iMpact Events 2023 von Migros war es für uns bei TechFace eine Ehre, an diesem wichtigen und inspirierenden iMpact Event für Frauen in Tech beteiligt zu sein. Das Event war ein grosser Erfolg und bot Frauen eine hervorragende Gelegenheit, mehr...
Stay informed with our monthly newsletter: