You know, I've had conversations with people who challenge me when I say representation matters, role models matter. Spoiler alert: both were white guys from a privileged background.
Representation matters. Why? (As if I needed to tell you…!) Because, when you see someone like you who *is* living your dream, then you have a much clearer path, a much easier way of believing that if she can, then you can too. Hence, #SHECANYOUCAN
Here's our line up of some of the most exciting and inspiring women in tech, as well as their journey to where they are. Hint: they don't all have Computer Science degrees. Is there anyone who inspires you that we should know about?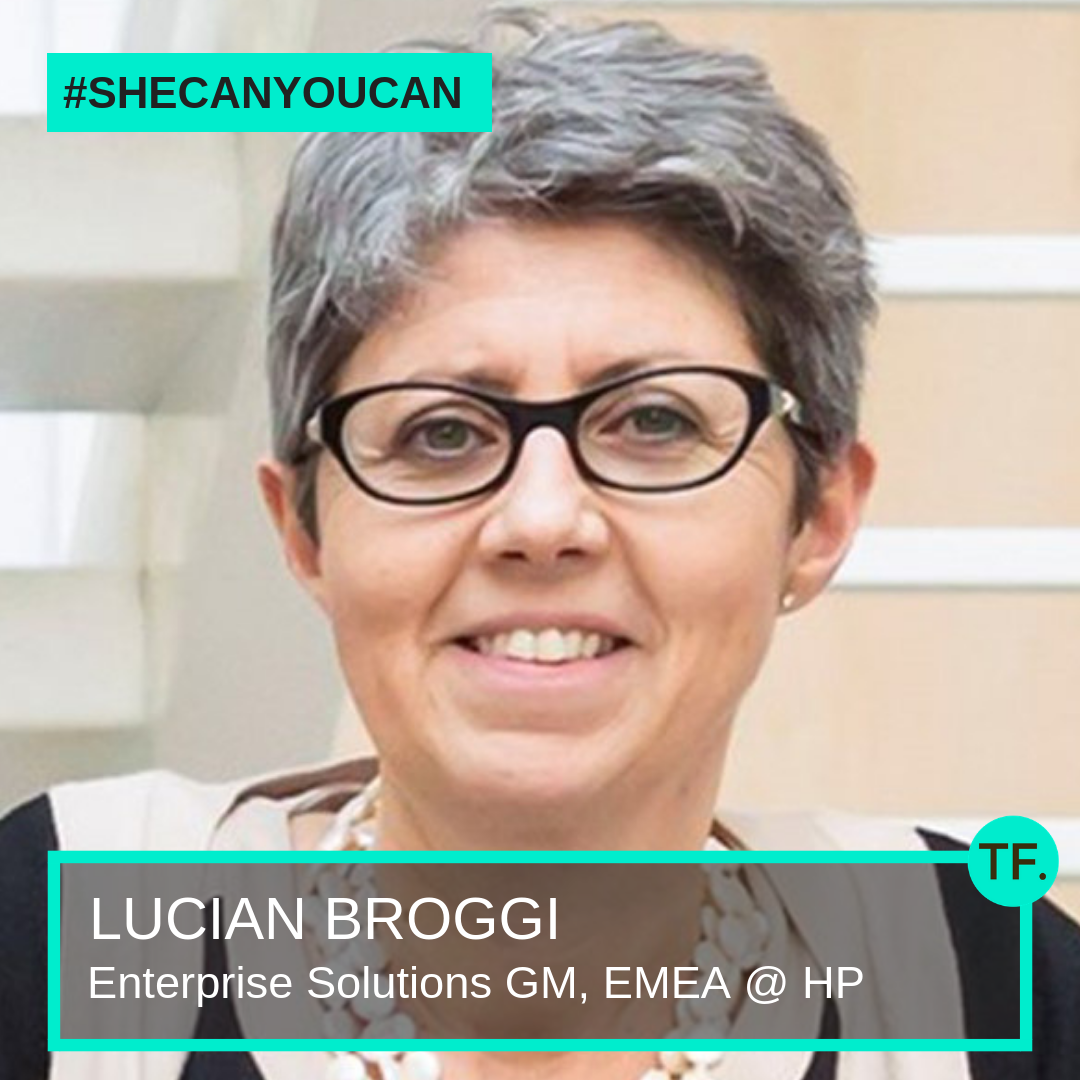 1. Luciana Broggi
Before taking on her current role as Enterprise Solutions GM Luciana was the General Western Europe (GWE) General Manager for the Personal and Printing Systems Organization (PPS) in HP. Previous to that role Luciana was the Vice President of the Global Customer Support Services Organization for PPS in HP responsible for driving a customer- focused trade services strategy, increase revenue and margin and increase services penetration rate for the overall PPS portfolio. Before the PPS integration Luciana was the VP and GM of the Channel Sales Organization (CSO) for HP's Personal Systems Group (PSG) in APJ (Asia Pacific and Japan). During that time she also covered two General Manager Positions in India and China for PSG. Luciana has held other leadership roles such as Chief of staff of the PSG EMEA, VP of Marketing for PSG EMEA, Director of Distribution Development and Sales, Partner Business Director for Ingram Micro, Channel Marketing Director and Channel Operations Manager. Luciana has a degree in economics from the Bocconi University in Milan, Italy. – Current, VP & GM of EMEA Enterprise Solutions.
2. Anuragha Gali
Anu is an Engineering Leader at Uber leading the Finance Insights team. As a tech leader, Anu has built high performing engineering teams from the ground up and steered large-scale projects in web, e-commerce and mobile technologies for companies such as Groupon, Shutterfly, Adobe and Yahoo. Anu strongly believes in having an entrepreneurial mindset and in helping others to reach their potential. A few years back, in her spare time, she co-founded a company and released a social entertainment app "IntoMovies". She also volunteers for a number of charitable organizations and STEM programs.
3. Nicole Heckmanns
Nicole is the Principal IS Business Analysis Expert @ European Central Bank in Frankfurt. She is an economist with an MBA specialising in information management. She started her career in consulting, mainly implementing market risk management systems for financial institutions. At the ECB she is responsible for the implementation of systems in the area of market operations, covering the whole range from business process modelling and requirements management to managing implementation and testing.
I didn't even know such a role existed! Noted.
4. Mennat Mokhtar
Mennat Mokhtar has 14 years of experience in the FinTech world. She has gained a wealth of experience as a hands-on software developer, system analyst and infrastructure engineer in top global financial institutions in New York, London, Dubai and now in Amsterdam. Previously a Vice President in Credit Trading Technology at Goldman Sachs followed by IT Manager at the first REIT in the MENA region. Mennat is now an IT Area lead at ING Netherlands & Belgium for Investments. She has a strong passion for people motivation and lean way of working.
5. Uygar SÖNMEZ
Born in Wilhelmshaven, studied Computer Science in Hamburg, being a passionated Ruby on Rails Developer and a mom, Uygar, 37, is in her professional life the Director Engineering for the Premium Memberships at XING where she leads as a people manager a bunch of developers, QA engineers, Agile Project Managers and Teamleads. Having worked as Ruby on Rails Engineer in several teams before for building successful products, she gains experience in developing and also placing products on the market. Besides that Uygar also believes in young talents and therefore is training apprentices at XING as computer scientists as well as being active for motivating more girls and women for programming.
6. Raisa Cuevas
Raisa started building websites and open source projects at Google in London. Now, she is proud to call Amsterdam her home, as she takes on a new role, helping Google's clients improve their mobile site speed and user experience. She understands the challenges of building performant and user-friendly sites, and is dedicated to helping others achieve this.